Sexual Harassment Lawsuit Filed Against Louisiana Governor's Office
Sounds like John Bel Edwards has quite the pickle on his hands just in time for election day.
Days before Louisiana voters pick a candidate for the state's highest elected seat, Gov. John Bel Edwards' office faces a lawsuit over how it has handled a sexual harassment case against a former top aide.
Truth in Politics, a conservative-leaning political group, is sponsoring the suit. Its members claim they have not received emails, texts or any other public records regarding former deputy chief of staff Johnny Anderson and former staffer Juanita Washington.
"Not one single document has been turned over," Truth in Politics spokesperson Emily Turner said. "There is only one word for this — stonewalling. The public has a right to public records."
Turner said the group first requested the public files on Aug. 8. The governor's office suggested it would provide the documents by Sept. 27, according to the lawsuit. Truth in Politics argues the office has since pushed its date multiple times — first to Oct. 4, then to Oct. 11.
"No doubt, they would break that promise if given the chance," Turner said.
Anderson resigned in November 2017, shortly after Washington issued her sexual harassment complaint. The state spent more than $100,000 in its settlement with her. (Anderson has denied the claims against him.)
Speaking Tuesday outside a Baton Rouge district courthouse, Washington blasted Edwards' decision to hire Anderson — who faced similar harassment claims while serving on the Southern University Board of Supervisors roughly a decade ago.
"My story is one that needs to be told completely and honestly," Washington said. "Release the evidence, and just say 'I'm sorry.'"
Edwards' office maintains that administrators asked Anderson to resign less than a day after Washington issued her complaint. (Anderson has denied all harassment allegations against him.)
Campaign aides for Edwards, a Democrat seeking reelection, addressed the case in a separate news conference Tuesday afternoon. Tina Vanichchagorn, an executive counsel for the governor, defended the office's handling of public records and countered Washington's claim that she wasn't allowed to keep her job.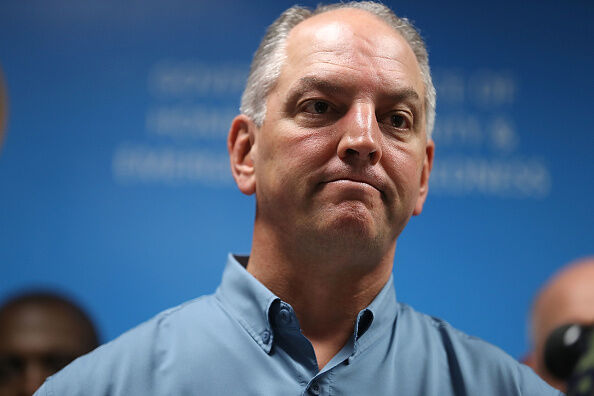 BATON ROUGE, LA - AUGUST 19: Louisiana Governor John Bel Edwards speaks during a press conference to update the public on FEMA's disaster recover and temporary housing programs on August 19, 2016 in Baton Rouge, Louisiana. Last week Louisiana was overwhelmed with flood water causing at least thirteen deaths and thousands of damaged homes. (Photo by Joe Raedle/Getty Images)

The Pursuit of Happiness
Ken Webster Jr is a talk radio personality and producer from Houston, TX. He started his career in Chicago on the Mancow show and has since worked at dozens of radio stations all over the country. He's currently the host of Pursuit of Happiness...
Read more