Rep Ilhan Omar Being Investigated By ICE, the FBI, & the Dept. of Education
Sounds like Rep Ilhan Omar (D-Minn.) may be nearing the end of her political career if these accusations are accurate.
In addition to recently being challenged by a Republican Muslim refugee for her seat in Congress, she's now being investigated by multiple Federal agencies, including the FBI & ICE.
Investigators with multiple federal agencies are reportedly reviewing evidence of alleged crimes committed by far-left Rep. Ilhan Omar (D-MN) that center around her marital history.
The Blaze reported that toward the end of last year, "the Department of Justice had assigned an FBI Special Agent in Charge, or SAC, to review Rep. Ilhan Omar's apparent, astonishing spree of felonies from 2009 to 2017."
The Blaze noted that the "FBI SAC stated that the wide range of criminal activity suggested by the evidence against Rep. Omar may lead the FBI to expand the review to other federal departments" and that in recent weeks, Immigration and Customs Enforcement (ICE) and the Department of Education inspector general have reportedly joined the investigation.
The Blaze reported that ICE's involvement in the investigation pertains to "questions about [Rep. Omar's 2009 marriage]," which allegedly includes "eight instances of perjury, immigration fraud, marriage fraud, up to eight years of state and federal tax fraud, two years of federal student loan fraud, and even bigamy."
The Department of Education inspector general is reportedly looking into whether Omar's 2009 marriage to a British citizen was "an attempt to facilitate federal student loan fraud, or other fraud involving higher education."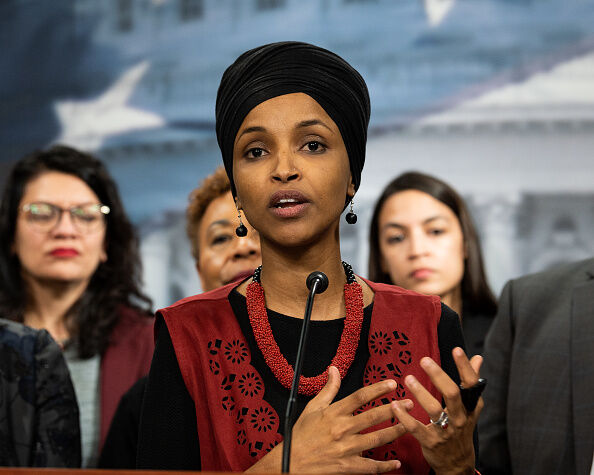 WASHINGTON, UNITED STATES - JANUARY 08 2020: U.S. Representative Ilhan Omar (D-MN) speaking about the situation in Iran and Iraq at a press conference organized by the Congressional Progressive Caucus (CPC).- PHOTOGRAPH BY Michael Brochstein / Echoes Wire/ Barcroft Media (Photo credit should read Michael Brochstein / Echoes Wire / Barcroft Media via Getty Images)

The Pursuit of Happiness
Ken Webster Jr is a talk radio personality and producer from Houston, TX. He started his career in Chicago on the Mancow show and has since worked at dozens of radio stations all over the country. He's currently the host of Pursuit of Happiness...
Read more