Saints Demolish Bengals For 8th Win In A Row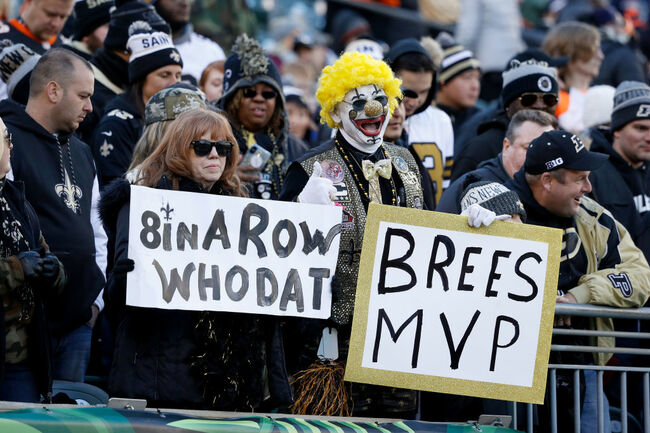 Fans of the New Orleans Saints hold up signs showing the support at the end of the game against the Cincinnati Bengals at Paul Brown Stadium on November 11, 2018 in Cincinnati, Ohio. New Orleans defeated Cincinnati 51-14. (Photo by Joe Robbins/Getty Images)
(AP) Drew Brees threw three touchdown passes in the first half, moving ahead of Brett Favre for second place on the career list, and the Saints rolled to their eighth straight victory in a 51-14 destruction of the Cincinnati Bengals Sunday.
Brees led the Saints to touchdowns on all five first-half possessions with a nearly perfect performance - only two incompletions. His 17-yard TD to Michael Thomas with 2 seconds left in the half gave him 509 career touchdown passes, one more than Favre.
Up next: Peyton Manning's record 539.
Brees had his way with the Bengals' historically bad defense , even diving over the pile to score a 1-yard touchdown. Cincinnati (5-4) became the first team in the Super Bowl era to give up 500 yards in three consecutive games; New Orleans finished with 509.
The Bengals matched the most lopsided defeat in franchise history and gave up the second-most points in club history. In the first half alone, the Saints piled up 311 yards and had 21 first downs on 40 plays. Brees was 18 of 20 for 214 yards with three touchdowns.
Mark Ingram and Alvin Kamara recognized Dez Bryant by crossing their arms after scoring touchdowns. The former Cowboys receiver signed with the Saints on Wednesday but tore an Achilles tendon in his second practice.
Copyright © 2018 TTWN Media Networks LLC